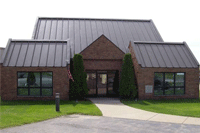 Garrelts & Sons is a leading provider for plumbing, heating/cooling and water treatment products and services. Garrelts & Sons has been serving the needs of McHenry, Lake & Kane county residents and businesses for over forty years.
We offer same day service for most of your needs and emergency plumbing services 24 hours a day, 7 days per week. Our expert technicians perform to the highest quality standards and we are constantly striving to reach our goal of 100% customer satisfaction!
We work closely with homeowners in solving a variety of plumbing related problems. Garrelts' philosophy is not to just fix the problem but prevent them from ever starting.
We are proud to be an official Kohler dealer...one of the country's leading providers of professional quality faucets, baths, showers, toilets and more. We have McHenry County's only authorized Kohler showroom.
Garrelts is an authorized dealer for the leading providers of plumbing, heating/cooling and water treatments products.
Our primary services include:
We plan to continue to expand our capabilities and community involvement for many years to come.
We encourage you to give us a call if you have any immediate needs or questions and be sure to take advantage of the following FREE features of our website:
Thank you for visiting,
Garrelts & Sons Plumbing