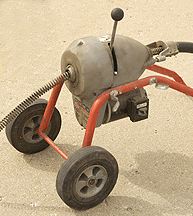 Do you have a sink that is slowly draining? Is your whole house or business backing up? Our company has certified and licensed plumbing technicians that can clear these sewer problems away.
We perform rodding on all toilets, bathtubs, kitchen & bath sink lines, laundry tubs, and main sewer lines using our small and large rodding machines.
Have a line that is being stubborn to clear or pesky roots causing you headaches? No problem, our experienced technicians have solutions for these problems using one of our specialty options.
Are you a restaurant or apartment complex owner who has shut down your business due to backup problems?
HydroJet Rodding is a high pressured cleaning machine that flushes thousands of gallons of pressurized water through drain lines, thoroughly cleaning debris and grease blockages.
Call us and inquire about our discounted maintenance programs.