You don't use hot water 24 hours a day, but, you're paying to heat water all day long. With a standard water heater, you heat and reheat the same water...even when you're sleeping. Tankless heating technology is a more efficient way to heat water while saving money and recapturing valuable space in your mechanical room.

The Benefits

Using the latest in gas technology, it heats water on-demand and delivers an endless supply of hot water for as long as you need it, offering personalized control for your convenience, comfort and safety.

The Facts

1. 25% of every American household energy dollar is spent producing domestic hot water.

2. Electricity is the WORST way to heat hot water while natural gas and propane gas are much more efficient, smarter choices.

3. Modern gas fired tankless water heaters are the best alternative available to todays homeowners to reduce their residential energy consumption.
---
No Storage, No Shortage
The most popular advantage of tankless water heaters is that you will never run out of hot water. This is because tankless water heaters heat water on demand and that means no storage or shortage of hot water. Imagine the luxury of always having hot showers or filling up a Jacuzzi hot tub and still having endless supply of hot water for the rest of your household needs. It's about time your home had equal supply of hot and cold water.
Space Savings - Flexible Installation Options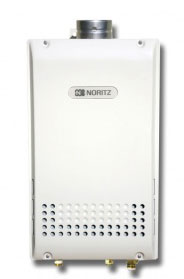 Compact in design, Noritz tankless water heaters can be installed virtually anywhere. Compared to traditional water heaters, one of the most obvious differences is its small size. Our tankless water heaters come in models that mount on the wall, inside or outside. This eliminates the bulky tank that requires much more space.
Contact us for more info or to install your tankless water heater today.