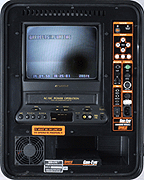 Our video technicians are available to locate underground sewer line problems. They have the capability to locate breaks in the line, sludge build up or root damage.
It also helps and informs to the customers' advantage because they could visually see everything on a full color monitor.
This also lets us record the procedure for your records "Taking the Guesswork out of Plumbing."

Our philosophy is to look before you dig to minimize costly landscaping replacement and cutting your overall plumbing cost.